On 25 May, the Australian International Beer Awards (AIBA) Trophy Presentation Dinner, billed as the beer industry's 'night of nights', was held at the Victoria Pavilion, Melbourne Showgrounds.
A thousand guests were in attendance as the awards celebrated their 30th year and hailed the best beers from around the world.
Seventy-five judges from around Australia and overseas assessed nearly 3,000 entries from 400 exhibitors based in 21 different countries. Brad Jenkins, CEO of Melbourne Royal, which organises the awards, was delighted by the AIBA's continued progress.
"The growth of the Melbourne Royal Australian International Beer Awards has been extraordinary," Jenkins said.
"Since the award's inception in 1993, to grow from 128 entries to now receiving a record number of entrants in our 30th year, from brewers from every continent other than Antarctica, illustrates the prestige the awards are now held in.
"Heartfelt congratulations to all the winners of medals and trophies, there's nothing quite like winning at the world's largest annual beer competition.
"We are immensely grateful for the extraordinary support received from the beer industry, and we extend our thanks to our major partners and sponsors who make these awards possible."
Dollar Bill hits the jackpot
Dollar Bill Brewing took away the flagship award of Champion Australian Beer for its Candy Paint 2023 Barrel Aged Sour Ale, which was also awarded the Best Fruit Beer title. 2023 marks the second time Dollar Bill have won the top gong, having previously claimed the trophy in 2021.
Dollar Bill went back to back on the Australian Gypsy Brewer Award – given to the brewery adjudged to be the best brewer working in other breweries in Australia – having also won the award in 2022.
Ed Nolle, one of the Founders of the Dollar Bill commented on the success.
"We enter these awards to be part of the industry and get a bit of feedback on our beers.
"It's great to have that feedback… and to have people say we're doing a great job makes it all worthwhile," Ed continued.
Fiona Nolle, another of the breweries founders said that Dollar Bill's previous success in this competition made this award even sweeter.
"That's what made it all the more shocking, because it was one of the things we grappled with after [the 2021 trophy win]. When we won it the first time we went: 'Well, you know, it's kind of sad we've done it now because now that we've done it, we're never going to do that again'," Fiona explained.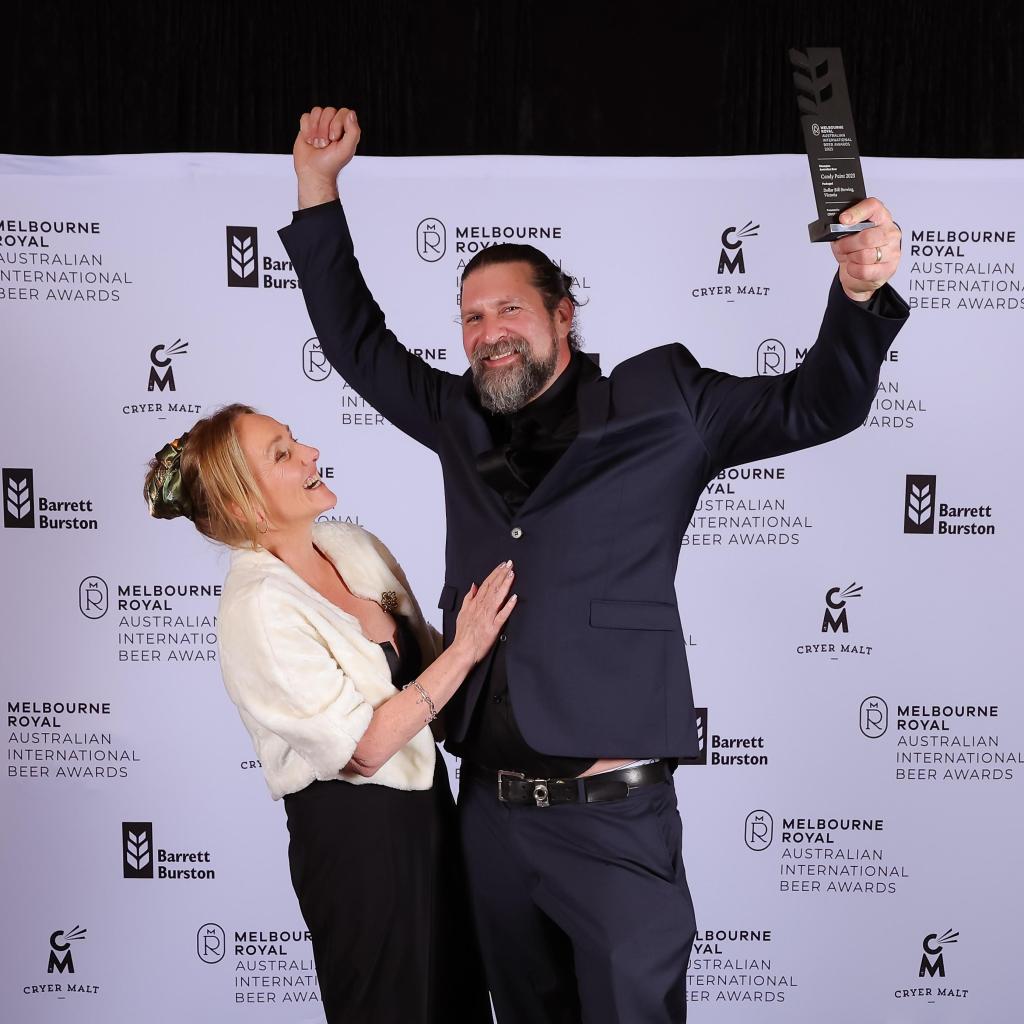 Ed also outlined why he thought Dollar Bill's beers continued to resonate with the judges.
"We get this really delightful kind of opportunity to work in between wine and beer," Ed said.
"They are definitely beer, but I mean that with the acidic profile that we kind of drive with our barrels and our barrel aging, the wild yeasts and bacteria that kind of influence, that it sits in between wine and beer.
"It has complexities of wine while having the lighter body and the lower ABV as a beer. So really kind of I think that really plays to, I guess our strengths, but also what the industry is kind of looking for in something a little bit more complex, a little bit less macro-manufactured in a way so it's a very small niche product."
Ed and Fiona told The Shout that their own brewing facilities would be up and running very shortly, so other brewers will have a chance of winning the Gypsy Brewery title next year.
Other big winners included Deeds Brewing, which triumphed in the category of Champion Medium Australian Brewery and Champion Victorian Brewery. The brewery also won Best Specialty Beer for its Ruminations brew, and Best Specialty Flavoured Beer for BBA Peanut Butter Imperial Stout.
Fellow Victorian brewers, Mountain Goat Beer, picked up the award for Champion Large Australian Brewery, as well as Best Wood and Barrel Aged Beer for Hightail XXV, an English-style amber ale aged in Cognac barrels.
Mick Bentley, General Manager of Mountain Goat, said he was delighted by the team effort that saw Mountain Goat win these awards.
"Winning Champion Large Brewery is a reflection of the passion, creativity, effort, knowledge, experience and awesomeness that each Goat brings to the table every day.
"The brewers delivered yet again amazing results and we are truly lucky to have these legends in our family. It is truly a team award as without Marketing and Hospitality driving brand awareness and communicating to consumers who we are, Sales actually getting our beers in customers and consumers hands and Finance and Logistics quietly keeping the lights on and shifting stock around the country the brewers would having nothing to do.
"The quality of beer Australian consumers are getting now from all brewers is better than it has ever been which stretches us and so to maintain success is very rewarding at the same time."
Bentley also explained why he thought Hightail XXV resonated with the judges, and a little of the beer's backstory.
"Back in 2014 the team decided they wanted to start playing around with Barrels and we were lucky enough to produce a Barrel Aged Barley Wine that took out Champion Beer in 2015," the GM said.
"Since then we have continued to experiment with Barrel Aged Beers and late last year we decided to supercharge our foundation beer 'Hightail', an English Amber Ale, to celebrate 25 years.
"We aged it for five months in Cognac and Pedro Ximenez barrels. The Cognac barrels provide smooth, oaky characters while the Pedro Ximenez barrels add a rich sweet aroma of over ripened raisins.
"The result is a smooth, soft and sumptuous beer more akin to Barley Wine than an Amber Ale yet a fitting tribute to the beer that started it all," Bentley concluded.
There were winners from other states too, with NSW-based Reckless Brewing Co. winning Best Australian Style Pale Ale for its XPA, while Esker/ Australian Brewery was awarded Best Modern Pale Ale for its Esker Hazy Pale.
Champion Small Australian Brewery went to Queensland's Moffat Beach Brewing Co, which also won Best International Style Pale Ale for its Shadow of the Moon Eclipse Strong Pale Ale.
Non-alcoholic specialist Beneficial Beer Co was awarded four bronze medals at the awards, including: Best Non-Alcohol Ale or Lager (where both its Wagon Drives Pale Ale and Stone Cold Lager were given bronze), Best Design – Labels / Surface Graphics, and Best Design – Outer Packaging.
David Jackson, Founder of the brewery, commented on the performance.
"In our second year of operation, we're stoked to snatch those Bronze medals at the largest annual beer showdown in the world.
"Our team of non-alcoholic wizards behind the brand is off the hook," Jackson added.
International Awards
The AIBA have a wide scope, including brewers from overseas. The flagship global award of Champion International Beer went to NB Craft Brewing Co, found in Beijing, for its Lindongjiangzhi Weizenbock (also awarded Best Wheat Beer). NBeer Craft Brewing previously won Champion Medium International Brewery in 2021.
From across the Tasman, there was plenty of success for New Zealand breweries. Kiwi producer Garage Project Brewery won Champion Large International Brewery, while Auckland-based brewers Behemoth Brewing Company won Champion Medium International Brewery, and Taranaki's Three Sisters Brewery was awarded Champion Small International Brewery.
Other international winners include: Japan's Kirin Brewery Company, which won Best International Lager for its Spring Valley Hojun 496, and Samuel Adams Brewery from Massachusetts, United States which won Best Non-Alcohol Beer for Samuel Adams Gold Rush.
A full list of winners can be found below:
Class Name
Winners
Champion Australian Beer
Candy Paint 2023, Packaged
Dollar Bill Brewing, Victoria
Champion International Beer
Lindongjiangzhi Weizenbock, Packaged
NBeer Craft Brewing Co, Sichuan, China
Champion Large Australian Brewery
Mountain Goat Beer, Victoria
Champion Large International Brewery
Garage Project Brewery, Wellington, New Zealand
Champion Medium Australian Brewery
Deeds Brewing, Victoria
Champion Medium International Brewery
Behemoth Brewing Company, Auckland, New Zealand
Champion Small Australian Brewery
Moffat Beach Brewing Co, Queensland
Champion Small International Brewery
Three Sisters Brewery, Taranaki, New Zealand
Champion Victorian Brewery
Deeds Brewing
Gary Sheppard Memorial Trophy For The Best New Exhibitor
Boundary Island Brewery, Western Australia
Australian Gypsy Brewer Award
Dollar Bill Brewing, Victoria
Best Australian Style Lager
King Road Lager, Draught
King Road Brewing Co, Western Australia, Australia
Best European Style Lager (Excluding Pilsner)
Mair St Märzen, Draught
Aunty Jacks, Victoria, Australia
Best International Lager
Spring Valley Hojun 496, Packaged
Kirin Brewery Company, Limited, Kyoto, Japan
Best Pilsner
The Prospector, Draught
Hemingway's Brewing Company, Queensland, Australia
Best Amber / Dark Lager
The Nightcrawler, Draught
Co-Conspirators Brewing, Victoria, Australia
Best Australian Style Pale Ale
XPA, Draught
Reckless Brewing Co, New South Wales, Australia
Best Modern Pale Ale
Esker Hazy Pale, Draught
Esker/Australian Brewery, New South Wales, Australia
Best International Style Pale Ale
Shadow Of The Moon Eclipse Strong Pale Ale, Draught
Moffat Beach Brewing Co, Queensland, Australia
Best British or European Style Ale (Excluding India Pale Ale & Pale Ale)
Margaret River Kolsch, Draught
Margaret River Brewhouse, Western Australia, Australia
Best Traditional India Pale Ale
West Coast IPA, Packaged
Seven Mile Brewing Co., New South Wales, Australia
Best Modern India Pale Ale
Haze, Draught
Philter Brewing, New South Wales, Australia
Best Amber / Dark Ale
The Buzz, Draught
Hop Nation, Victoria, Australia
Best Porter / Stout
Arthur Smoked Porter, Packaged
Blackman's Brewing, Victoria, Australia
Best Reduced / Low Alcohol Beer
The Reveller, Packaged
Revel Brewing Company, Queensland, Australia
Best Non-Alcohol Beer
Samuel Adams Gold Rush, Packaged
Samuel Adams Brewery, MA, United States
Best Wheat Beer
Lindongjiangzhi Weizenbock, Packaged
NBeer Craft Brewing Co, Sichuan, China
Best Belgian / French Ale
Sour Brett Ale, Packaged
Holgate Brewhouse, Victoria, Australia
Best Fruit Beer
Candy Paint 2023, Packaged
Dollar Bill Brewing, Victoria, Australia
Best Wood And Barrel Aged Beer
Hightail XXV, Packaged
Mountain Goat Beer, Victoria, Australia
Best Specialty Beer
Ruminations, Packaged
Deeds Brewing, VIC, Australia
Best Specialty Flavoured Beer
BBA Peanut Butter Imperial Stout, Packaged
Deeds Brewing, VIC, Australia
Best Design – Label / Surface Graphic
Golden Pipes Brewing Auguste's Underground Hazy Pale Ale
Endeavour – Pinnacle Drinks, New South Wales, Australia
Best Design – Outer Packaging
Shiner Orale
Shiner Beers, Texas, United States
Best Media
Mick Wüst, Queensland, Australia
Consistency of Excellence Medal
Coopers Original Pale Ale, Packaged
Coopers Brewery, South Australia, Australia
Consistency of Excellence Medal
Hawkers Bourbon Barrel Aged Barley Wine, Packged
Hawkers Beer, Victoria, Australia
Consistency of Excellence Medal
Philter XPA, Packaged
Philter Brewing, New South Wales, Australia
Consistency of Excellence Medal
Philter IIPA, Draught
Philter Brewing, New South Wales, Australia
Consistency of Excellence Medal
O'Brien Brown Ale, Packaged
Rebellion Brewing, Victoria, Australia
Consistency of Excellence Medal
Lager, Draught
Sydney Brewery, New South Wales, Australia