Monday, August 12, marks World Elephant Day. On this day we celebrate elephants worldwide and also think about how we can conserve and protect these beautiful creatures from the threats to their existence.
Today, there are around 415,000 African Elephants roaming the continent. This number is down 70% in the 2009-2016 period and down from 10 million in 1930! (Source: WWF). These are sobering figures. The main pressures on the population are poaching for ivory, habitat loss due to human expansion and land conversion and human-elephant conflict.
Elephant Gin is championing the spirit of the African Elephant population with 15% of profits going to three charities that address the most important factors of their conservation.
The Big Life Foundation is an anti-poaching organisation that employs over 280 rangers protecting two million acres of wilderness in the Amboseli-Tsavo ecosystem of East Africa (just north of Mount Kilimanjaro). This is done through innovative conservation strategies that address the elephants greatest threats while also working with the Masaai people to create economic opportunities to improve the quality of life for the entire community.
Space for Elephants is focused on restoring the old migratory routes lost when the game reserves were fenced in, isolating elephants in "pockets", breaking up extended herds and adversely affecting biodiversity. The aim is to allow a hundred thousand elephants the freedom to range across Africa, along centuries-old trails that were once a lifeline before mankind drew lines on a map.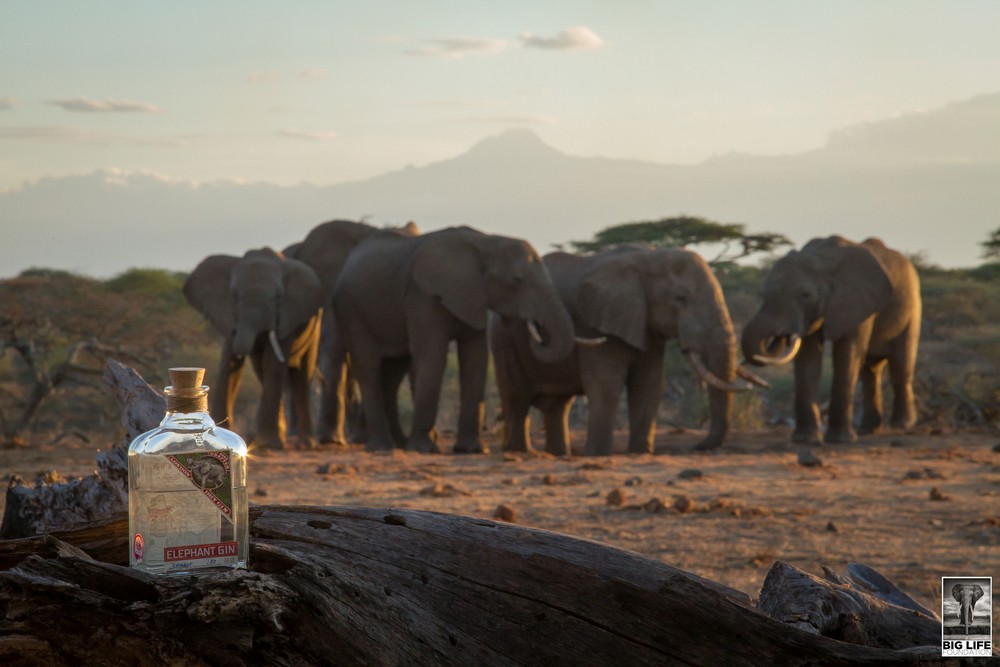 Sheldrick Wildlife Trust is the most successful orphan-elephant rescue and rehabilitation program in the world. Its elephant orphanage near Nairobi nurtures baby elephants that have been orphaned in the wild, often left behind when their mother dies due to poaching or by other human interventions. Each baby elephant has the support of a dedicated team to nurse them back to strength and to rear them in such a way that they can return to the wild when grown.
Elephant Gin has also been recently praised for its commitment to sustainability. Positive Luxury is a body that audits and certifies the highest quality brands via addressing certain criteria including the brands governance, fair pay structure, responsible sourcing of ingredients and waste and water management. Based on satisfying their criteria Elephant Gin was awarded with the 'Butterfly Mark' in 2019.
Now with over 40 major international awards under their belt there is no better time to try the Dry Gin, the pressed and unfiltered Sloe Gin or the super smooth Navy Strength! Available through Paramount (NSW/VIC/SA), Liquid Speciality Beverages (QLD) and LiquidMix (WA) and also direct. For any enquiries, email elephant@luxewinespirits.com.au or call 1300 526 881.
***** To celebrate World Elephant Day, 10% off all Elephant SKUs from our distributors or direct from Monday, August 12 to Sunday, August 18!!!!*****