4 Pines Brewing Co. has been announced as the official beer of the Australian Men's Cricket Team, with the brand's beers set to flow as Australia faces England in this year's summer Ashes series.
The announcement follows a 2018 deal between the Sydney Cricket Ground and 4 Pines which saw the Manly-founded (and now, Asahi-owned) brewery open a branded beer bar in the stadium (pictured above).
"At 4 Pines we are passionate about having fun and bringing people together over great beer," said 4 Pines co-founder Jaron Mitchell. "Partnering with Cricket Australia to make this happen on the biggest of stages is huge for us and we are going to swing harder than Adam Gilchrist did on a short delivery to make this a success!"
"It's been a tough time for the industry, so we look forward to supporting our customers with
initiatives to bring punters into their venues to enjoy games this summer."
The deal will also see 4 Pines expand on its existing relationship with Landcare Australia, with the brewery pledging to plant four trees every time a four hits the boundary line.
"We look forward to seeing numerous 4 Pines Fours in the summer of cricket ahead and planting thousands of trees in strategic locations to enhance local native habitat, increase biodiversity and improve wildlife connectivity in the landscape," said Dr Shane Norrish, Landcare Australia CEO.
"The partnership is an outstanding example of how corporate Australia can make a meaningful difference in protecting our natural assets."
A big week for craft beer and cricket: Colonial inks deal with Cricket Victoria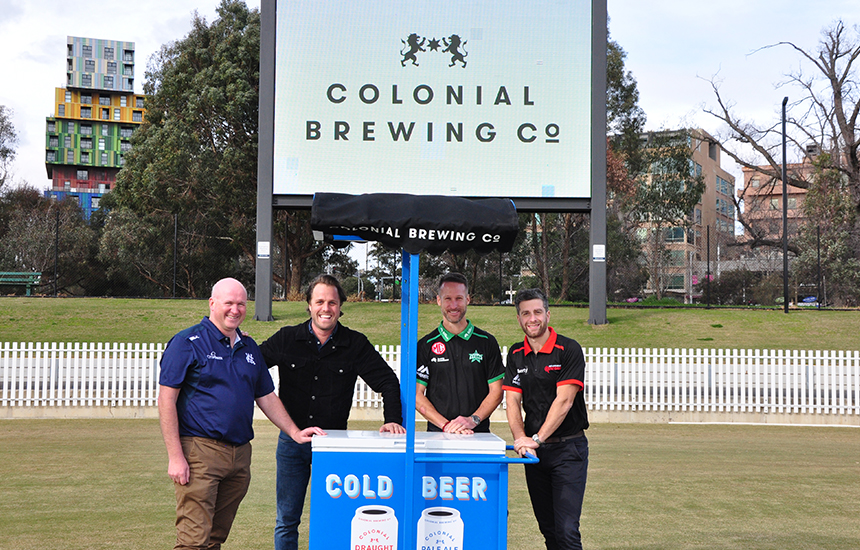 In other beer and cricket news, Colonial Brewing has inked a deal with Cricket Victoria which will see them becoming the Official Beer & Cider Partner of Cricket Victoria, the Melbourne Renegades and Melbourne Stars for the next three years.
Colonial will offer a range of handcrafted beers, as well as a Cold Pressed Apple Cider, for Victorian cricket fans to enjoy at CitiPower Centre and other venues.
"Cricket represents everything we love about Australian sport and as an independent Australian-owned business, we're excited to partner with Cricket Victoria and support cricket fans and communities at every level of the game," said Colonial Brewing Managing Director Lawrence Dowd.
"The partnership with Cricket Victoria allows us to provide support and create a positive difference to local communities across Victoria through grassroots cricket clubs.
"We're delighted to see a shift toward independent and Australian-owned craft breweries moving into the arena of major sports sponsorships."