Accolade Wines and ecoSPIRITS will join forces in a closed-loop distribution system, thought to be a world first, that will provide a reduction in cost and carbon footprint to on-premise operators.
This new circular technology represents the first time that ecoSPIRITS has moved into the wine industry, for which the company developed a special version of its ecoTOTE reusable vessel.
CEO of ecoSPIRITS, Paul Gabie, said: "The development of ecoSPIRITS' circular wine technology has been one of the most exciting projects in our history."
"Our solution blends extraordinary quality, reliable preservation and transformative cost and carbon footprint reduction – and leverages the ecoSPIRITS global network of closed loop service."
The ecoTOTE packaging, currently in use by spirits brands across Asia-Pacific, has been adapted to the specific challenges of shipping bulk wine, with this new edition named 'ecoTOTE 3.0W'.
EcoSPIRITS states that the technology provides 'high standards of hygiene, oxidation, temperature, and ultraviolet protection for wines distributed in the closed loop system.'
The ecoTOTE uses a stainless-steel cap liner to meet wine-contact materials standards, while a tinted glass vessel prevents ultraviolet light from damaging the product. Each ecoTOTE is shock-resistant, and has a volume of 4.5 litres, allowing for efficiency in supply and handling.
All of the existing features of ecoSPIRITS' existing logistics network will also apply to its wine operation, with cloud-based tracking available for on-premise operators and temperature control at every stage in the loop.
Once at the venue, ecoSPIRITS' SmartPour technology will allow for 'wine-safe serves and bottle refilling with digital accuracy.'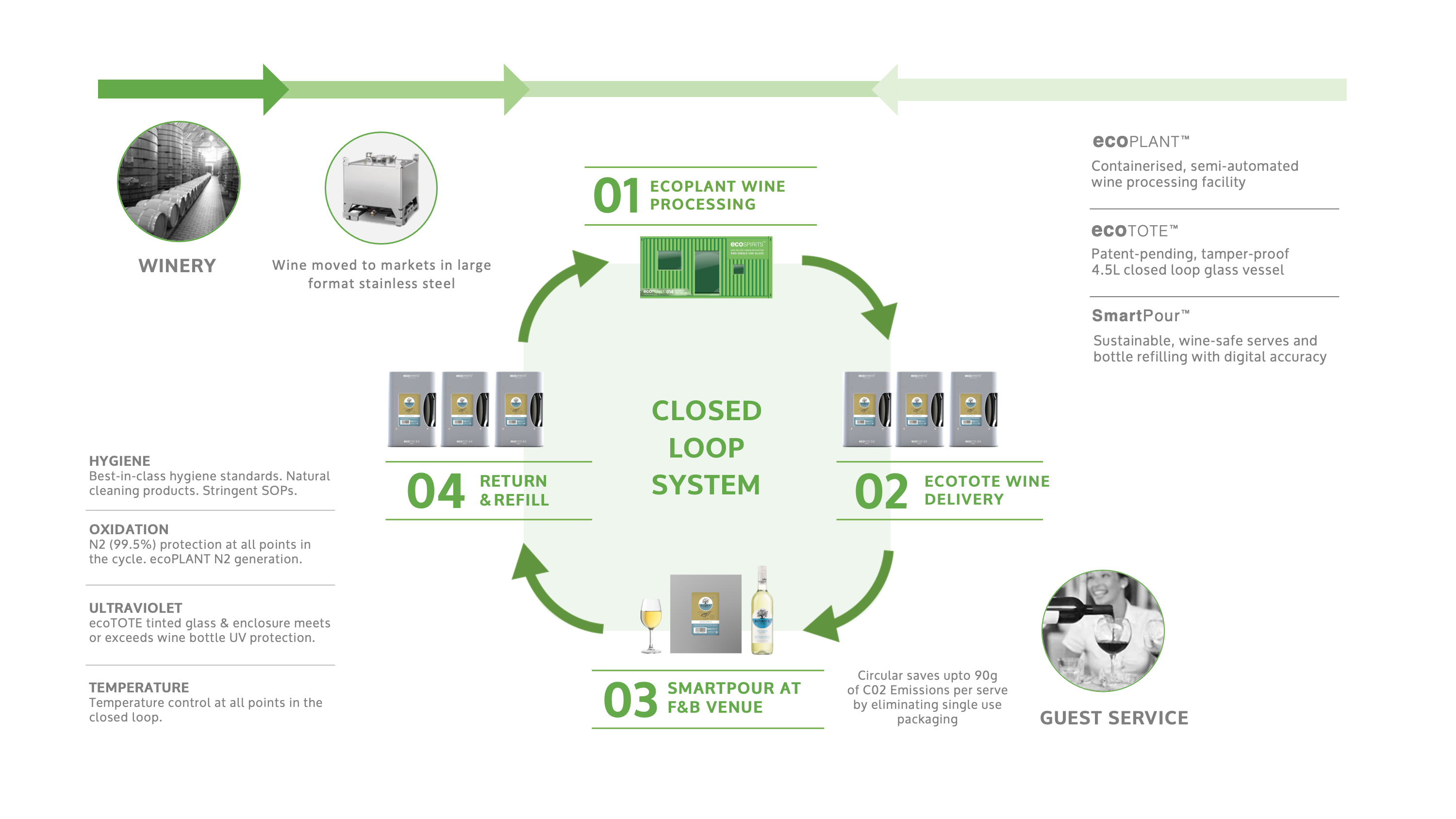 By teaming-up with Accolade Wines, ecoSPIRITS has secured a partnership with one of Australia's largest winemaking companies.
"As one of the biggest and most innovative wine companies in the world, Accolade Wines was an obvious partner to work with on this launch," Gabie said.
"Their commitment to sustainability in packaging – and beyond – is genuine and of global impact. We can't wait to see the uptake of this world-first in wine around Australia and globally."
Accolade has said that it will initially use the closed-loop system with itsBanrock Station brand, which is known in Australia for its environmental efforts. Banrock Station is located in a unique wetland ecology area, and previously, the winery has worked with WWF-Australia. The brand currently partners with Landcare Australia to plant 100,000 trees every year.
With more than 30 billion single-use glass bottles produced by the wine industry each year, ecoSPIRITS hopes that this development can go some way to helping to reduce wine's impact on the environment.
Banrock Station's Pinot Grigio, Rosé and Pinot Noir wines will be offered to venues in Sydney through the ecoTOTE closed-loop system in the first half of this year.