Welcome back to The Shout's Industry Women Spotlight Series. In this series, we share the stories of women from across the industry, raising awareness for the challenges they face and passing on their advice for the next generation.
Through one profile each week, we aim to hero the visibility and inspiration that is common on International Women's Day, supporting the voices of women in different sectors of the liquor and hospitality industry. It's important these conversations happen more frequently than just once a year.
This week we caught up with Catie Fry, Co-founder and Master Distiller at Queensland's Clovendoe Distilling Co, who is an advocate for boosting female opportunities in Australian spirits.
Growing up on a farm with a love of botanicals, Fry spent most of her childhood concocting potions from herbs, spices and plants. After developing a background in nutrition, she officially entered the distilling industry in 2016, when she was part of the founding team behind Salesyard Distillery, now Capricorn Distilling Co.
Fry recalled being the only female in the founding team of this distillery, which focused on rum and gin. She was largely involved with making the first gin products from the distillery, which saw success on the international awards circuit, and through that became even more interested in how botanicals are used in the distilling process, learning a lot along the way.
But at the same time, Fry felt like she was unconsciously getting "pushed to the back of the business", working on things away from this creative distilling side that she enjoyed and needing to take care of her small children.
"I wasn't really getting the opportunity to be distilling in the actual distillery itself, but I really did want to, so I bought myself a little still," Fry said.
"The only time I had to create after wrangling two small children was at home at night. I spent a lot of nights working from a little still in my kitchen, and started just working with botanicals."
This was around June 2017, and was also when Fry began noticing a real gap in the market for low and no alcohol drinks. She realised this while being pregnant and breastfeeding, and having many friends doing the same, and also while working in the distillery door, which was located on the highway and meant that there was a non-drinking designated driver for every group of visitors.
So Fry started creating no and low alcohol products and selling them via this distillery door. While they were becoming quite popular, commitments to the wider business meant she didn't have enough time to dedicate to the range and it wasn't being enough of a focus.
"It wasn't until about 2020 that I got frustrated by the fact that I couldn't really let my products shine… so that's when I thought, I'm going to create my own distilling company and I'm really going to make these products a thing," Fry said.
"And I guess by the time I made that decision in early 2020, I'd been watching the low and no alcohol category really expanding, and I thought, 'I've sat on this for far too long, I'm missing my opportunity here.' The market has just kept on getting bigger since."
So then Clovendoe Distilling Co was born, with its Seed, Stem and Sprout products available in both non-alcoholic and also 24 per cent ABV bottlings.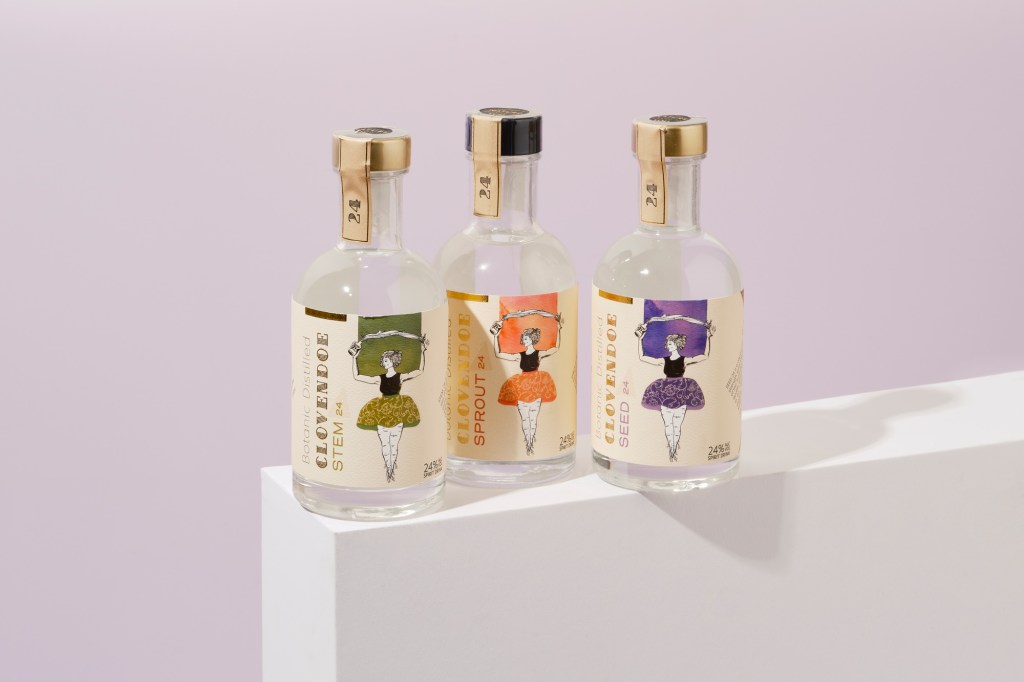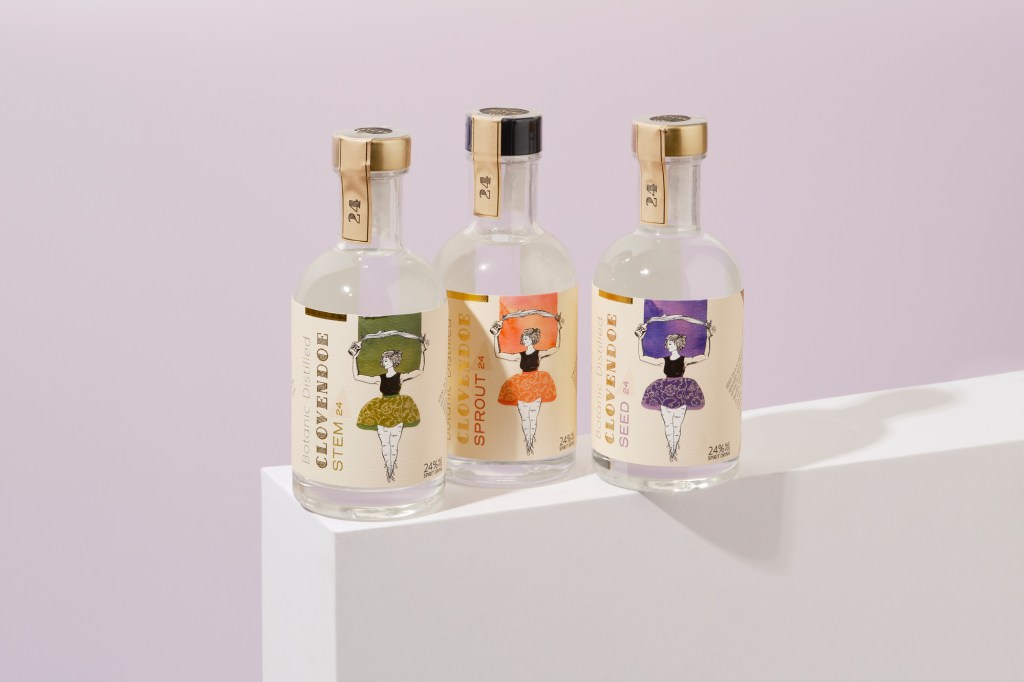 Highlights beyond awards
The first competition that Fry entered Clovendoe into, she only entered one product, Stem 24, which is a favourite in the range for many. After taking out a bronze medal for that, she realised she should have put more products up for recognition, and so when she entered the most recent Global Spirits Masters awards, she put the whole portfolio in.
That was definitely a good idea, as all products entered won accolades, with Clovendoe taking home five gold medals and one masters medal.
"They said I smashed the low category, the judges unanimously said that was the star of that category, so that was really awesome to hear," Fry said.
"I think a lot of [no and low alc spirits] are styled after gin, but I've been a little bit more adventurous. I believe in my blends – I've got one gin-style, but the others are crafted more like botanical vodkas."
Awards and recognition for her products are easily highlights for Fry when thinking about Clovendoe's journey so far, but there are also a few other defining moments that really stand out for her. One of the biggest ones has been able to prove people wrong when they have assumed that products with a feminine feel wouldn't be respected amongst male consumers.
"In the early days, I said to people that I was creating this distilling company from scratch through a female lens, and I was going to let the labels and marketing be what they organically were, which was feminine," Fry said.
"I had a lot of people say to me 'you're going to alienate half your market by being so female-orientated and men won't be interested.' I remember battling a bit with that, and then I thought, 'no, it's going to be what it's going to be'."
Today, Fry said one of her best and most loyal customers is a male tradie who loves how Clovendoe fits with his lifestyle choices. Seeing this challenging of assumptions about 'masculine' and 'feminine' products has been a real everyday highlight for Fry.
Another moment that stood out for her was when she brought Clovendoe's non-alcoholic range to a baby and children expo for pregnant and breastfeeding mothers to try.
During the electric energy of tastings at the expo, Fry said: "So many women said to me that that was the first time they felt they could have a fun party experience and not feel like they were missing out [because they couldn't drink alcohol.]
"I made it with that in mind. When I was pregnant, I felt that, and that's where the creation of my spirits came from. To have that echoed by these women was just so exciting for me."
Impacts of unconscious bias
Although Fry said more and more women are entering distilling, it is still largely a male orientated industry. The fact that it has been this way for so long has helped continue one of the biggest challenges that women in the industry face, which is unconscious bias.
"I don't think there's a huge problem in the industry so much, I think it's just those subtle things that a lot of us still have," Fry said.
These internal biases come out as casual questions and comments that make assumptions about the role of women in the industry being on a different level to men. It's these subtle instances that people might not even think about that are inhibiting positive change.
"For example, my husband is a distiller too and I still get people asking me if he does the distilling for me. It's really interesting because he wouldn't even know my recipe, and I've been distilling for a while, I'm pretty sure I can distill for myself," Fry said.
"Those assumptions are still there and people don't even realise they're doing it… there's still that assumption that it's weird for a woman to be doing it all at the helm."
Fry said there are so many incredibly talented women in distilling who are proving this assumption wrong, but the ratio of women in top distilling roles and R&D roles is still not high enough in Australia. She said it's up to everyone to come together to support more women in these opportunities, as that issue of unconscious bias is negatively influencing the confidence of women in the industry.
"Some women do feel intimidated coming into what is still quite male dominated, and might not feel they're physically strong enough, for example, because of that unconscious bias conditioning," Fry explained.
More training programs and funding support is one way that Fry thinks this can change, and wants to see the government get on board to facilitate this.
Advice to aspiring distillers
The top piece of advice that Fry had for the next generation of female distillers is to not be afraid to practice. When you take the technical components away, distilling is a craft, and you need to refine your palate and play with flavours to see the most success
"The industry is open to this, it's 2022 and the door is not closed… buy yourself a little 20 litre turbo still and start working on flavour profiles with water," Fry said.
"There's nothing stopping you from what you want to do, you can start small and go from the ground up."
Another key message from Fry is to trust in your gut and your vision – if she hadn't, she would have missed her opportunity to create what Clovendoe is today.
Catch up on all the previous profiles from our Industry Women Spotlight series here.