One of the great things about International Women's Day (IWD), which took place earlier this week on March 8, is getting more visibility for the stories of some incredible women in Australia's vibrant hospitality and liquor industries.
It's a day of inspiration for all gender identities, and one that prompts us all to review things like gender equality and biases, and think about what we can all do to make a difference in these areas. But too often, IWD is just that – a single day – while these issues continue to make an impact all year round.
The Shout wants to hero the visibility and inspiration of IWD on a year long basis too, so we're launching a series of profiles about women from across the wider industry and sharing their stories. We hope that through this series we can support the voices of women in different sectors of liquor and hospitality, raise awareness for the challenges they face, and pass on advice to the next generation of industry women. It's important these conversations happen more frequently than just once a year.
First off the bat in this series is Danielle Allen, Co-founder of Two Birds Brewing and an extraordinary female role model in the industry.
Allen didn't originally start her working life in the beer sector, but found her feet in liquor through marketing. In the early 2000s, she got a taste of the industry through a role at Metcash, where she became familiar with the independent side of retail, followed by a role at Woolworths, around the time that private label activity was beginning to take off.
Through marketing for these companies, Allen was involved with product development from start to finish, and everything in between. She developed significant knowledge on global routes to market with brands and companies in their early stages, and gained a solid understanding of how the liquor industry worked – as she recalls, it was "fascinating."
It was after touring a number of American craft breweries with Allen's friend, Jayne Lewis, that the lightbulb moment happened to create Two Birds Brewing. At the time, Lewis' career had seen her grow her skills in roles with Little Creatures and Mountain Goat, and she shared an ambition with Allen to create a business of her own.
"We realised with the background and skill set I had, and her brewing skills, we could team up and start a brewery together," Allen said.
"We launched Two Birds in 2011, built a brewery in 2014… and 10 years later we're still here. Obviously we have a slightly different structure now that we're part of Lion, but in terms of owning and driving the brand direction and deciding where it goes, that's still very much on Jayne and my shoulders."
Creating a value-driven brand
Allen said being Australia's first female-founded brewery is something that drives the values behind the brand. It's what has kept IWD as an important part of the Two Birds calendar for many years, with a special limited Warrior Woman beer release each year in honour of the day, as well as events hosted at the Two Birds Brewery, and a recent fundraising collaboration with Endeavour Group around the Summer Ale SKU, which comes in a purple can (a colour that often symbolises IWD).
"It means justice and dignity, which I think are two great values for us, as a business, to hold ourselves accountable to," Allen said.
With an aim to help lead the beer industry towards more gender equality, Allen said this is also something she loves about what she does, a love that has grown and developed as the Two Birds business has.
"I think as we've gotten older and wiser and more settled into the business with the brand more established, it really has been about driving that awareness around equality and diversity, and helping lead conversation down that path," Allen said.
"That was never the objective or the priority of starting a brewery or a beer brand. Being Australia's first female-founded brewery was just about making good beer, because why shouldn't we start a brewery?
"It has changed now, we want to be not only just a female voice in beer but also inspire women to really have a second think about industries they might not automatically think they're allowed to step into."
That's why the fundraising initiative with Endeavour Group is so special, because it's intended to fund boots for women who can't afford them, but need them for safety reasons related to traditionally male-dominated industries like brewing and construction. Anything that Allen can do with Two Birds to break down barriers of equality like this has often formed a highlight in her career so far.
Another defining moment was signing a "groundbreaking" sports sponsorship deal with Melbourne AFL team, the Western Bulldogs. Allen said this was the first time an independent craft brewery forged a partnership with a major football club, and helped Two Birds be involved in the mainstream acceptance and celebration of women's AFL teams too.
"That was a really great alignment of two brands coming together for the greater good, when women's AFL had just started. That was quite a big thing," Allen said.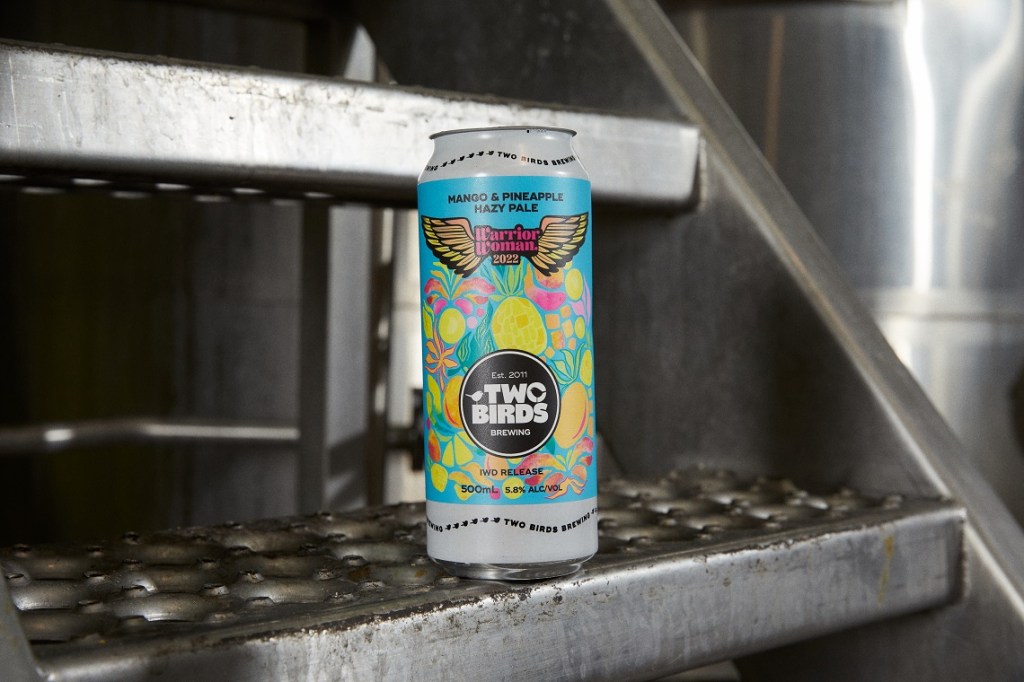 Helping dismantle the challenges of women
Through being involved with different sides of the industry and then going on to co-found her own beer brand, Allen has been able to witness and experience the challenges that women face in the industry firsthand. One of the greatest ones has been about unconscious bias, which is a fitting term to discuss right now after the 2022 IWD theme of 'Break The Bias.'
"Every day we're still confronted with people assuming that the beer industry is all about men, and women don't participate, women don't drink beer and women don't enjoy beer. So I think we're still a long way from breaking down that first real basic bias about beer, although we've already come a long way too," Allen said.
Because of this, Allen believes there is still a gap in visibility and opportunity for women in beer, based on the preconceived ideas and notions of what people think is possible for them. On top of this, Allen said there is the challenge of having to work harder to be "taken seriously". Having said this though, she does see positive change already in the works.
"There's a couple of really leading women who have done such great work to break some of those biases down… There's a small pocket of the industry that do really well at it, but it's about spreading the word into more mainstream areas around Australia," Allen said.
"I'm not sure if there is one big solution or remedy, I think it's a whole lot of small efforts. It starts with every community and everybody being responsible and accountable for it."
One such effort that Allen noted is that of Beer Agents For Change, a collective of women seeking to lead meaningful change in the Australian beer industry. The group is working on information and resources that the industry can tap into so that every business, big or small, can have the capability to create positive codes of conduct and guidelines around gender equality.
Allen said this will be an invaluable addition to the industry, which for the most part is really trying to do better.
"There are a lot of people interested in this and getting it right already. It's definitely not for a lack of desire [that there are still issues]," Allen said.
Advice for women in the industry
Allen is an excellent role model for women in beer, being co-owner of a successful business and a voice for positive change. Her advice to other women in the industry to get to a similiar level is to always stay true to yourself and your motivations.
"Quite often people say you've got to go and get insights from as many people as possible, but it's really important to first have your own vision, your own objective and your own goals," Allen said.
"People will offer you a variety of opinions and if you're not 100 per cent confident and believe in yourself and what you're doing, then it can be easy to not stay on that direct path."
Allen's biggest suggestion for this is to write a proper business plan, even if it will change later, because having the bones of it down on paper will go a long way in helping remind you of your purpose.
"Being absolutely 100 per cent authentic to yourself is just so paramount in starting a business and getting it off the ground. It's not going to be easy, nothing is easy in this world, and its not going to fall into your lap," Allen said.