In the latest significant entry to the non-alcoholic category, Victorian gin distillers Four Pillars has introduced two non-alcoholic products, including a zero per cent version of its iconic Bloody Shiraz Gin.
Four Pillars is releasing non-alcoholic versions of two of its most popular and acclaimed gins, Rare Dry Gin and Bloody Shiraz Gin, the culmination of a project the distillery described as 'probably the single biggest challenge we've faced.' The bottles will be available from the end of June.
The move marks another major entrance into the no-and-low-alcohol (NOLO) category, which has proven itself to be one of the fastest growing sectors of the drink industry in recent year.
These two non-alcoholic 'spirits' are named Bandwagon Dry and Bloody Bandwagon, a play-on-words that references being 'on the wagon' – but also perhaps the unstoppable bandwagon that the that this category has become.
Introducing these new products, Four Pillars Co-Founder and Distiller, Cameron Mackenzie, cited the need for a high-quality substitute for alcoholic offerings.
"When we launched in 2013 never in our wildest dreams did we think we would make a non- alcoholic product. But as we've grown older and wiser, booze is not always your go-to and you a need quality alternative. Enter Bandwagon."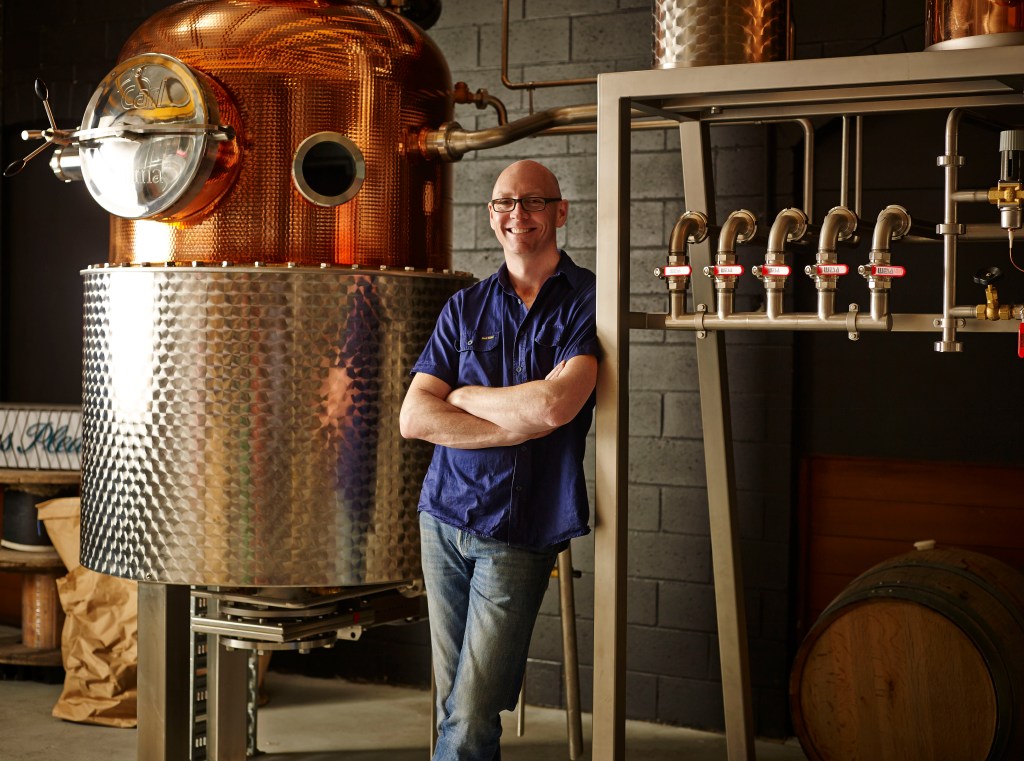 Four Pillars stated that the ten botanical ingredients used in the distillery's alcoholic Rare Dry Gin were as a starting point for both expressions – though the methods of extracting flavours were different.
"Bandwagon Dry has been modelled on our original gin, Rare Dry Gin, which has become something of a benchmark for modern, citrus-forward gins with a combination of Middle Eastern, Asian, and local Australian botanicals. Bandwagon Dry follows the same path – just without the booze," Mackenzie said.
Each botanical is steam distilled separately, so that their flavours can be managed and their essential qualities retained. After distillation, botanical extracts are added to a water base.
In a press statement, Four Pillars emphasised that these bottlings were not gins – referencing legislation that states that gin must have a minimum of 37 per cent ABV.
'To make something we love with the key ingredient missing, well that was a challenge for sure,' the statement continued.
With this in mind, Four Pillars recognised the need to replicate the warmth and body offered by alcoholic spirits. The alcoholic heat was replicated by steamed, vacuumed fresh chillis, while fructose 'found in plants' was also added to lend weight.
"Aromas of orange and lemon myrtle are obvious, and on the palate, there are notes of spice and some warmth. Not from alcohol, but from a heavier load of botanicals. This is a botanical-based, alcohol-free spirit destined for a booze-free G&T," Mackenzie explained.
For the Bloody Bandwagon, a non-alcoholic version of Four Pillars' Bloody Shiraz Gin, unfermented Shiraz grape juice is added to the Bandwagon Dry base, bringing flavour and colour, but without alcohol, as Mackenzie illustrates.
"In Bloody Bandwagon we have created an alcohol-free base of highly concentrated Shiraz and then added complexity with the addition of many of our favourite botanicals including Tasmanian pepperberry leaf and several types of citrus.
"This is a unique, purple, and slightly sweet alcohol-free spirit that you can use just as you would your Bloody Shiraz Gin."
Tim Carroll, Endeavour Group Director for Buying & Merchandise, was on hand to contextualise this release within wider market trends.
"Customers are increasingly asking for alcohol-free options, and zero alcohol products remain one of the fastest growing categories across our BWS and Dan Murphy's stores; we've seen a 150 percent increase in sales in the last 24 months."
It has been first half of 2022 for Four Pillars, which opened its new distillery in Healesville in April, and announced that it was certified carbon neutral in the same month.
---
Both bottles, which are 700ml, will be available nationally by the end of June.