Bombay Sapphire, the world's leading premium gin brand, continues to challenge conventional techniques by inviting gin-lovers to discover a new world of colour and taste with Bombay Bramble.
With flavoured gin currently booming in Australia, seeing 54.2% growth in the past year, Bombay Bramble is ripe for discovery and perfect for colourful cocktail creativity. Pushing the boundaries of flavour, and colour by marrying the classic Bombay Dry vapour distilled gin with a real fruit infusion of raspberries and blackberries, Bombay Bramble is set to revolutionise the flavoured gin category – creating a flavoured gin that achieves a distinct crimson colour and bold berried flavour with 100% freshly harvested blackberries and raspberries and no added sugar.
Bombay Bramble is the result of a highly crafted, innovative and intensive process that challenges the common practices of other flavoured gins on the market. After distillation, freshly harvested blackberries and raspberries are used to create a rich fruit infusion, capturing the essence of the fruits when they are more ripe, with no artificial flavours, colours or additional sugar. This makes Bombay Bramble the perfect creative canvas for cocktail experimentation.
The signature serve suggestion is to simply enjoy with tonic, poured over ice and garnished with a squeeze of lemon. The Bombay Bramble & Tonic is a fresh and different option for those that are looking for a refreshing twist this Spring. The subtle crimson hue drawn from the gin creates a visually striking drink with a light, fresh and balanced taste.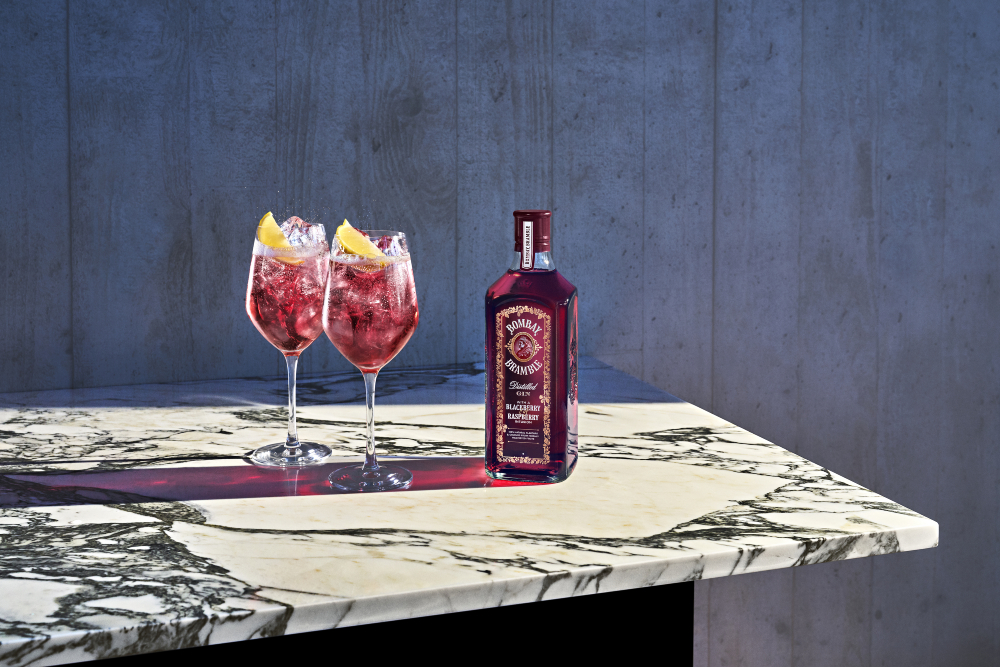 Inspired by the classic Bramble cocktail, created by the 'The Cocktail King' Dick Bradsell in 1984, Bombay Bramble is bursting with 100% natural flavours of freshly harvested blackberries and raspberries and no added sugar. Bombay Bramble simplifies the mixing of this iconic serve by offering both our Bombay Dry gin and natural berry fruit flavours in one spirit; a innovative way for bartenders and consumers alike to evolve this much-loved classic cocktail with ease.